Correct. Player option for JV. Mancini may have the mutual option.
Think it's going to cost a lot more than $25MM to keep Verlander next year.
the way he's pitching, I don't see any reason not to give the guy a 7-year contract.
Yep, and the Mets among others will be circling. Of course DeGrom is also going to be a free agent.
Prior this contract he was deciding between the Astros, Yankees and Blue Jays.
If he finishes the season strong and healthy, I bet he will equal or surpass Scherzer's 3 year $130MM contact. The only way Houston keeps him is if they offer him a short term, record yearly money deal I think. No way do they offer him a deal that's very long term in my opinion. The good thing is that Verlander has been open minded to short term deals.
We don't really have a precedent for a 40 year old reigning Cy Young winner
Yep. Just a 41 year old reigning Cy Young award winner.
Gaylord Perry was 40 in 78. Roger Clemons 42, man that guy was great, 2004. Youngest Gooden 20 in 85.
Personally I think we have been blessed with Verlander, excluding to years of almost no pitching at a high salary. He spent many, many years in Detroit. Came back somewhat of a question mark here to Houston. May earn another Cy young in houston. I wouldn't bet on anything, but he might make a somewhat reasonable deal with us. He knows the team, the team is very, very good. At least for a few more years, IMHO. I like that we have the rays old GM, because I like the way he calculates. Would never bet for it, but would never bet against it. Verlander that is.
The Astros have the lowest ERA among starting pitchers in the AL (3.16), with Verlander (15-3, 1.85 ERA) and Valdez (11-4, 2.73 ERA) leading the way. The workhorse Valdez leads the AL with 142 innings pitched, and needs one more quality start next week in Chicago to tie Mike Scott's franchise record of 20 in a row, set in his National League Cy Young season of 1986.
ICYMI from last night with JV being pulled after 6 no-hit innings…
Moved in to 13th place last night…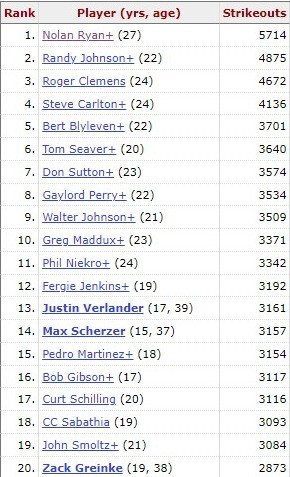 Footnote: 7 of the top 20 strikeout leaders all-time pitched at some point in their career with the Astros
Scherzer and Verlander is a bit reminiscent of the back and forth Ryan and Carlton once had with each other.
Speaking of Verlander. Not exactly a surprise.
Why wouldn't he?
Doesn't mean he won't be back though.
A recent FanGraphs article estimated his performance this year as worth $45M as a free agent
I would say he is far out pitching his current salary so far. I would do the same thing in his position.
If by the end of the year it looks like McCullers is back to form, I don't see the Astros paying Verlander what it would take to keep him.
They will need to spend their money on areas other than starting pitching.
I would agree that the rotation should be very sound and deep next year, even without JV.
That said, if he wants to return, I think Crane makes sure it happens.
And I would not be surprised to see a guy like Urquidy or Garcia traded in the offseason if this is the case.