Space Cowboys taking advantage of the launchpad that is Vegas baby…
3 dingers by Korey Lee
2 long pokes by Yainer Diaz
2 deep flies from Lewis Brinson
1 pop off the bat of Corey Julks
1 from JJ Matijevic too
Currently 23-4 in the 8th inning.
It's a really nice stadium.
Impressive but…10 of 'em have come in hitter havens El Paso, Albuquerque and Las Vegas.
What's he hitting at home?
Viva Las Vegas!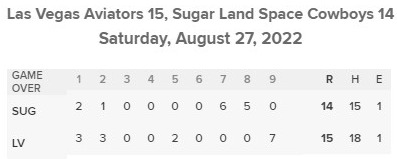 Another good outing for Whitley: 4 IP, 3 H, 2 R, 1 BB, 7 K.
Back end of the pen was not exactly lights out.
Pedro Leon activated and back in the lineup tonight.
SL shoots down the Aviators 12-1 as Hunter Brown successfully navigates Vegas: 3.1 IP, 0 H, 0 R, 2 BB, 4 K. 58 pitches, 40 strikes.
Leon had a single in 5 PAs which also included 2 walks and 2 whiffs.
Probably "cash considerations" of one Starbucks gift card.
Did that clear a spot on the 40-man?
No. Meyers is the only OFer on the 40-man in the minors.
Probably right, but dude was having a pretty good year down there.
We have a number of players that could end up being minor free agents I believe. Hope we got more than a starbucks gift card.

Might be player to be named later. I hope.
Not so good Forrest showed up on the hill tonight: 3 IP, 3 H, 3 R, 5 BB, 2 K, 63 pitches/30 strikes.
22 year old RHP Misael Tamarez promoted from CC for the last 3 weeks of the AAA season. He posted 43 Ks vs 12 BBs over his last 28.2 IP for the Hooks with 21 hits allowed.
And another for Forrest the Frustrating…
4.1 IP, 3 H, 2 R, 7 BB, 4 K, 92 pitches/52 strikes
Clearly not ideal.
But bright side : 10 BB/H in under 5 IP and held them to 2 runs.
Able to limit the damage and stretched to 92 pitches, healthy.
Shawn Dubin finishing strong since his return from the IL: 19 IP, 12 H, 6 BB, 23 K.