here in Austin watches in place other places looking bad…what does our resident weather expert say
Watch the cell to the Southwest very closely and heed NWS alerts. It just started spinning and has a classic developing signature for a large tornado.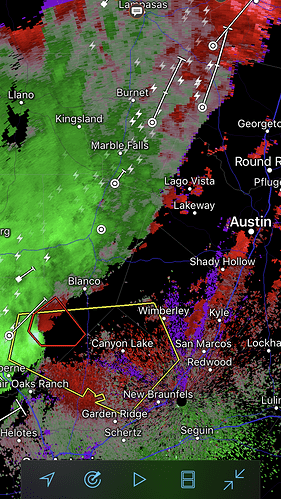 It's taken on a classic hook echo on radar. Anyone in Blanco, TX should be underground right now and people in towns northeast of there should be glued to their TV's and radio and cell phones listening for instructions.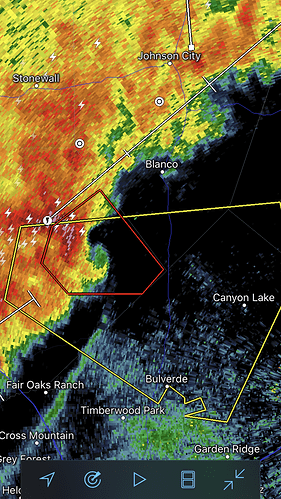 Today's Round Rock tornado passed within a couple blocks of my house, just a couple minutes before this video. No obvious damage for us, but other houses in our area have some roof damage and downed fences.
This tornado went on to become a wedge tornado near Taylor. Feeling extremely fortunate right now.
Everyone else around Austin okay?
Glad to hear you're OK. That particular tornado was odd in that it wasn't in a warned area during the time of that video. Warnings all around, but not there. I'm in North Central Austin. Lucky here, no real storm at all, just needed rain.
Hard rain in Mueller for awhile but no severe weather.
Glad you're safe Waldo. Hope everyone else fared well too.
I don't think anything materialized here but the sirens were going.
I don't know if I've ever seen such a low ceiling. One cloud was about 20 feet above the neighbor's roof.
I was stuck at work and watched it cross I-35 live on KXAN. Just about lost my shit. That cell must have spun up faster than they could issue a warning for.
Texas weather…we're desperate for rain but really could have done without the tornadoes and hail
map at the link
At least we're not California.
Last I saw the weather-types are ~50/50 on whether La Nina will persist through the summer or weaken. Any insight @das?
I can say with absolute certainty that either it will or it won't.
I suppose that depends on where you live. I think La Niña means milder temps, but less rain, especially for the plains and southwest. If you're in a drought, I'm guessing you want the wet.
Yep, Texas is in a drought so we want less nina
I thought this was a weather thread. ?? I can at least agree with the sentiment, though.
Sorry. It's hard for me to see a list of Texas misfortunes without channeling Greg Abbott.
That would be a nearly unprecedented third year in a row moderate-to-strong La Niña. Exceedingly rare. I'll have a better idea in the next 60 days or so.
I'm assuming that's the "red truck" video?