Love this lineup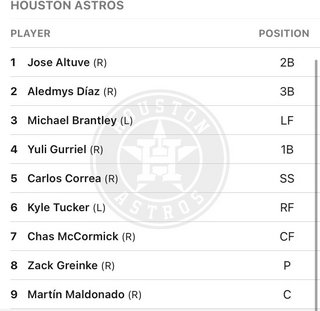 At least, we don't have to see Tucker in center again today.
Castro, Meyers, Robel, Yordan
Sorry, forgot about your earlier post about Meyer getting Jake Marisnick's #6 with Bielak and Abreu being optioned
Stros had some good swings in the 1st, nothing to show for it
Wade Jr. Grounds out to Yuli on 3rd pitch.
Yaz Jr kills Greinke, glad that one was foul
Yaz
Ball, ball, strike, ball, foul, foul,
crushed into the cove just foul.
Strikeout
Strike, strike, ball, ball,
Called 3rd strike looked a bit low.
16 pitches, 2 Ks for Grienke in perfect 1st.
0-0
Correa
Strike very bottom of zone 50/50
Foul
Flyout to left on pitch at eye level.
Carlos is no Altuve
Tucker
Foul down right line
Foul left seats
Strikeout swinging just low outside
Chas
Ball
Strike on inside breaking ball
Fly out to warning track in right
Wood 2 IP, 1H 19 pitches
0-0
Watching the game in Oracle Park. Small, but significant Astro cheering.
Bottom 2nd 0-0
Flores
Strike,
Groundout 3-1
Crawford
Ground out 3 unassisted on 1st pitch
Solano
Ball, strike,
HR to left
1-0 Giants.