6 year, 115 M extension.
Through 2028
Cabrera beat me to it. I'll slink back into lurking
You can just call me Mark.
Chandler Rome speculates that stress over getting his parents and brother out of Cuba might have contributed to that funk at the plate during most of August…
Hidden

Alvarez's parents and brother attended their first game, a 4-2 win over the Twins, on Aug. 23. In the 30 that followed, Alvarez slashed .343/.436/.638, freeing himself from a late-season funk that some attributed to hand pain and others to mechanical flaws in his batting stance. Both could have contributed to the downturn. Alvarez acknowledged each as a factor but kept silent about the uncertainty enveloping his family. "Yordan was anxious and worried. He wanted to have his parents here," [Astros immigration counsel Carlos] Rosas said. "It played a big role in his mindset. It's something that was constantly on his mind, and now he can rest."
I've wondered how the Venezuelan MLBers have kept things together with the all issues back home.
You probably woke up this morning and thought to yourself, "I don't need to see a 44 minute you tube video on Yordan Alvarez."
You were wrong: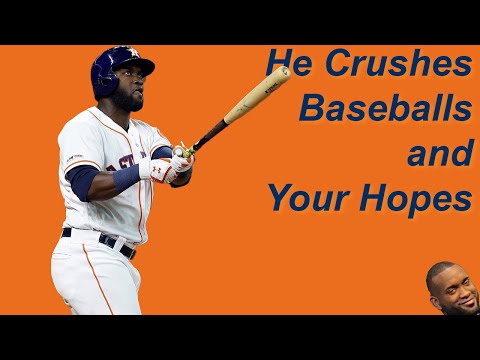 Yordan is The Man. I'll never get tired of watching that game 6 WS HR…epic.
3 go ahead HRs 6th inning or later with team behind in the playoffs.
No player has ever done that before in an entire career and Yordan did it in a 13 game span in a single post season.
Just watched it before work… going to watch it again after work…never gets old. That HR vs the Mariners was huge, huge.
I had zero expectations the Astros would win that game heading into the 9th.
Hope, of course. But no expectations.
Still blows me away.
After Altuve Ked, I did not even have hope because Peña chased so many sliders.
I did not either. I honestly thought Peña was overwhelmed. He proved me wrong. And I've never been so happy to be.
Yeah, you told me "This game is over" during Peña's AB. After strike two, I thought it was.
HH saying "this game is over" in the 3rd inning of any random game is pretty much OWA gold.
I love all yall, and this means nothing.
I admire the restraint in waiting till the 3rd inning.
To be fair, I only say it in the GZ, which is like an alternate reality anyway. And I'm usually drinking.
Things in the GZ stay in the GZ as they say.