Pettitte the pitching coach on the USA squad…
Astros connections thus far…
Team USA
Andy Pettitte, pitching coach
Kyle Tucker
Venezuela
Omar Lopez, manager
Jose Altuve
Puerto Rico
Joe Espada, coach on 2013/2017 squads and manager (rumored) this time
Dominican Republic
Rodney Linares, manager (former manager w/CC Hooks)
Saw somewhere that Springer is going to play for Puerto Rico.
Yeah Carlos Baerga (who these days is apparently in charge of the Puerto Rico Baseball Federation) has suggested that possibility. He's mentioned that George is "interested" (Springer is also eligible to play for Panama in addition obviously to the USA). Might recall that Springer was going to play for Puerto Rico in '17 but ended up backing out.
Baerga also just posted this to his IG…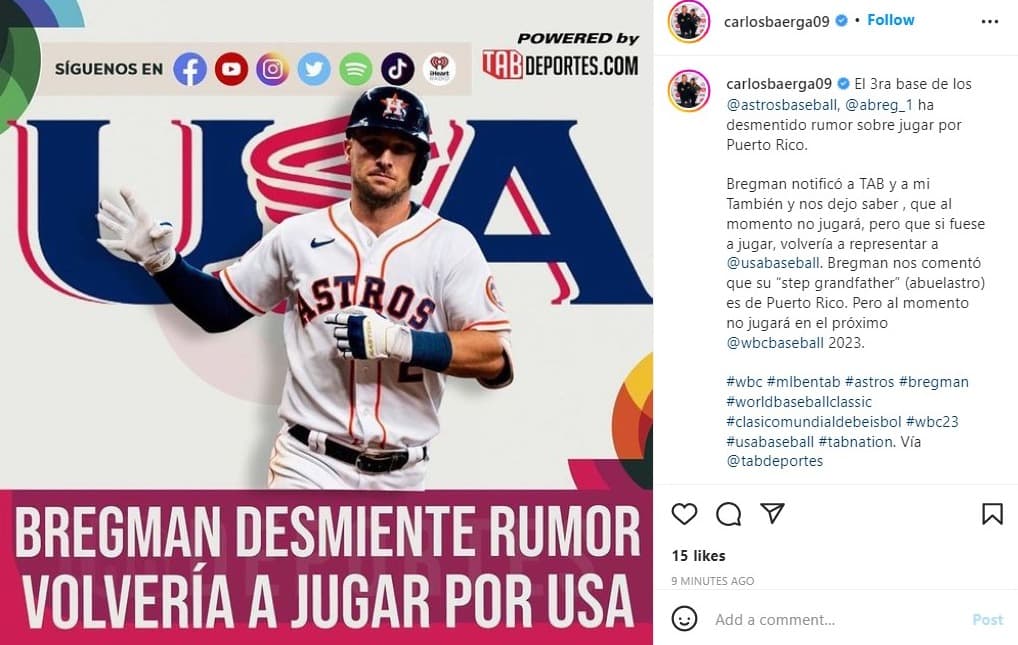 Translation: Bregman notified TAB and me too and let us know that at the moment he will not play, but if he were to play, he would represent @usabaseball again. Bregman told us that his "step grandfather" is from Puerto Rico. But he at the moment he will not play in the next @wbcbaseball 2023.
Springer probably should follow Bregman and sit it out given his recent injury history.
Puerto Rico?! That motherfucker.
could have been a father fucker?
Stanek wants in.
Also in the clip he talks about going to Cuba as a collegian and playing against Aledmys and Yuli as a member of Team USA…
Bregman has an abuelastro. I guess that means he has to play for the Astros.
Mancini will play for his father's father's father's mother country…
Team USA
Andy Pettitte, pitching coach
Kyle Tucker
Venezuela
Omar Lopez, manager
Jose Altuve
Puerto Rico
Joe Espada, coach on 2013/2017 squads and manager (rumored) this time
Dominican Republic
Rodney Linares, manager (former manager w/CC Hooks)
Italy
Trey Mancini
You expect to see teams from Asia and Latin America in the WBC but I really like seeing Italy, Netherlands and Israel in the competition to really give it a global feel.
Italy actually has one of the stronger baseball cultures in Europe. I've played with several guys from Italy.
They also have a bunch of great jazz musicians and, of course, great food. I like Italy.
I've never been to Italy, but I married an Italian, which has its perks. Not the least of which is homemade risotto alla Milanese.
went to Italy with bus trip. All upper military, except my parents. (brother and I kids). At the end of trip, they took my mother aside, and said they were not happy to have kids on trip at first. We were the only two. But we were well behaved. The lady told my mom that her kids were wonderful and made the trip much better. Brother and I must have been good!
Googled recipe. looks pretty tasty.
There is a surprising amount of little league baseball fields throughout the Netherlands. It seems to be a pretty popular youth sport there.
Yeah, the Netherlands is probably the "hotspot" for European baseball. They've been playing the game there for a long time, having been introduced in the early 1900s. Of course, it's also extremely popular in the former Dutch colonies in the Caribbean such as Aruba and Curaçao.
Thats where I was living for 5 years. Must have learned how to play after seeing benefit. Came out of movie theatre, had snowed. 11 dutch kids started throwing snow balls at us. They couldn't hit the broad side of a barn. Our friend, brother and I, couldn't miss. We played little league there.