Some pretty elite company for the Cavs' star after going off yesterday…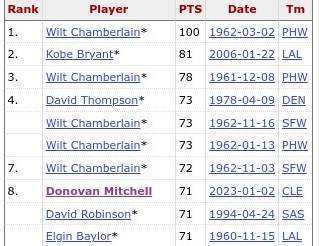 Now post the list of quadruple-doubles
The only player to have done it twice.
But Nate Thurmond, Alvin Robertson and David Robinson also posted quadruple doubles.
Breaks the previous record of 62,046 set at the Georgia Dome back in 1998…
Wow, that's a head-scratcher for me. Are they using two basketballs now?
This could be good for the Rockets, I'd imagine
Face it- not every team has the intelligence to dig out a Jalen Green and Jabari Smith with two #2 picks.
Anything bad for the Nets is good for the Rockets. And this might keep the Nets out of the playoffs, which at least gives the Rockets more ping pong balls.
Just looked it up, and it's a bit convoluted:
Rockets can swap picks with the Nets in the 2023 draft (which is worthless, because we'll be higher)
We give our 1st to OKC in 2024, but own the Nets 1RP
HOU has a 1RP "from Houston, Oklahoma City, OR Brooklyn (Oklahoma City can swap its 2025 first for Houston's first-round pick, top-10 protected; after that is decided, Houston can swap whatever pick it has for Brooklyn's selection, if desired)"
Rockets have the Nets 1RP in '26 and another swap in '27
LeBron with 20 in the first half against OKC.
16 to go.
There's a lot of hate for LeBron on social media. I've always respected him, even though I haven't closely followed his career. If I had as much money as he had, at the age he had it, I would not have survived.
Lakers lose.
(oh and LeBron now is the new scoring champ)
All time scoring leader. He's pretty good. If he had a killer instinct there would be no argument.
BTW, the GOAT is Wilt Chamberlain.
Nobody other than Russell has ever really challenged him.
To me, it's a toss up between Wilt and Jordan. Lebron is a big overgrown baby.
By a greater margin Wilt was the most dominate player of his era than any other player of a different era but he never had to defend against Shaq, Dream, or The Admiral, nor was he ever defended by those guys or even a Smits or Eaton. Post Chamberlain's days, players got bigger and bigger players got more skillful. How Wilt would have responded is left to conjecture. Which is true on most any question of who is greatest of all-time in most sports. Mays or Ruth?