Hard to blame him. But I hope it doesn't start a trend.
Other players started the trend, but I get it with his health concerns.
If the entire team opts out I'd understand.
I'm sorry, but I do. It's a monumentally selfish and stupid idea to be playing professional sports for entertainment purposes as a once-in-a-lifetime pandemic rages on in America with no end in sight. MLB players, managers and coaches make enough where they can afford to miss a season, and their work is far from essential.
This is correct. Next to Disney opening in Florida - Florida! - acting like professional sports leagues are going to have or continue a season is about the most idiotic thing happening right now in the realm of attempted normalization.
I laugh every time I see an article in the Athletic: Eight Keys to the Texans' O-Line in 2020. I'm like, Yeah, sure, fill me in, Slappy.
What Chuck and David said. I so agree.
Watched the intersquad game yesterday and was thinking that it looked so unnecessary.
Add Collin McHugh to the list of players opting out of 2020.
One of the few bright spots of social media in general and Twitter in particular is it can afford a chance to see public figures as actual human beings. I've enjoyed following Collin and his wife for the past year. These athletes and their families have ups/downs hopes/fears like the rest of us. And she apparently keeps empty drink containers in her car to Collin's annoyance.
(on balance we'd still be better off jettisoning all social media into the sun)
"game is on the tv and toro's in 31. will now be opening alcohol."
Here's the OD roster: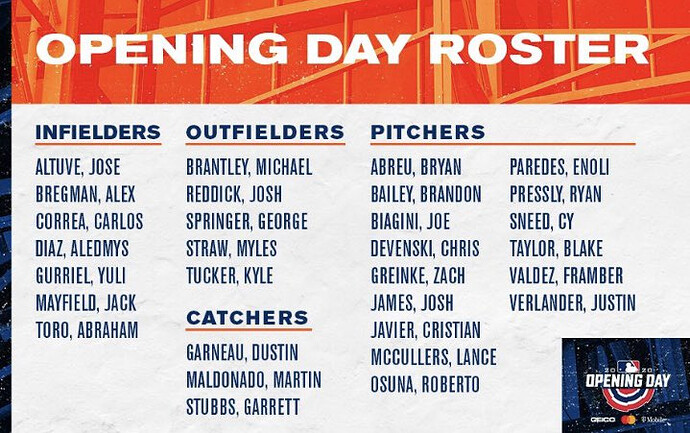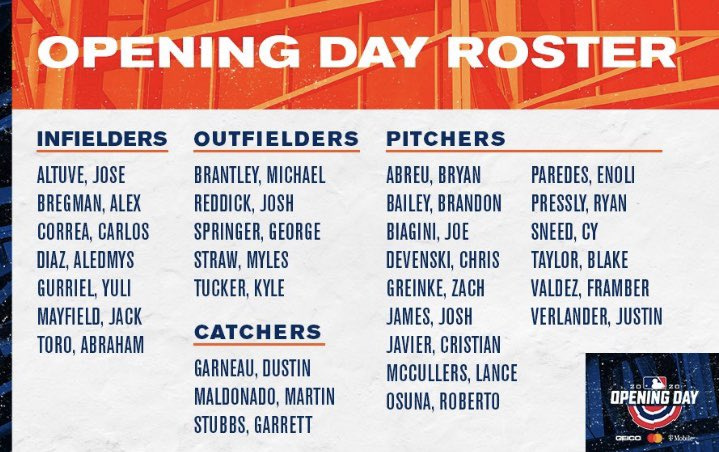 Rules question: Does the runner at 2nd base to start extra innings have to be someone who hasn't played in the game? That certainly seems like Straw's role. Who else has wheels?
No, it's the last batter to have made an out. They can be pinch run for in the usual way.
Stubbs has very good speed. No 'for a catcher' qualifier needed.
That is part of why he is on the roster. There is no need to carry a third catcher with the taxi squad rules.
Each team will be permitted a three-player Taxi Squad for every road trip, giving them immediate options to replace an injured or COVID-19 infected player. The players will come from the 60-man Player Pool, but the goal of bringing them on the trip is to avoid putting a player on a commercial flight if an injury occurs.

A three-player Taxi Squad – which every team is expected to carry on all road trips – must feature at least one catcher, while the other two players can be either pitchers or position players. One executive said he expects most teams to carry a pitcher, a utility player and a catcher, though some could opt to bring two pitchers and a catcher.

These three players will be permitted to work out with the team on the road, while the catcher will also be allowed to serve as a bullpen catcher. At the end of the road trip, Taxi Squad players will return to the team's Alternate Training Site, though the catcher will be permitted to stay with the team as a bullpen catcher for home games.

Taxi Squad players will not be paid MLB salary or accrue service time, but they will receive the Major League allowance of $108.50 per day along with their Minor League salary.
I miss all your bus riders updates.