Great fun hanging out with y'all last night/this morning!
The Raups
Matt, I thought you and I saw the hardest ball ever hit in Game 1 v. Seattle. I was wrong. Mark and I saw it last night.
I thought about that. If Alvarez had hit last night's to the same part of the park as he did the walkoff, it may well have hit El Grande. That ball was fucking smoked.
Thanks, Coach!! So much fun hanging out with y'all as well. Definitely soothed my jangled nerves and really getting to meet everyone in person.
And as I mentioned to Mark, assuming the A's are still in Oakland next year and you want to come out for a game and abuse my hospitality in Napa, please do. Which goes for anyone else here.
Finally got home about an hour ago. Tired and somehow still ambulatory after last night, but my God was it worth. Surreal to be at the game and I'm definitely still trying to process everything. Memories I'm going to cherish for the rest of my days.
Mark told me about your kind offer last night, and we are definitely going to do that next year when it is convenient for you. Let's keep in touch about our visit.
I somehow managed to get back to town, pick up my big goon of a dog, and play floorball this afternoon paying for it worse than you could ever imagine, but I've gotten to relive the magic of last night several times, so overall win win.
Amen and absolution. The lack of sleep, the hangover, the traveling, all of it was damn worth it to watch the Astros win the World Series. I'm still giddy as a school boy typing that sentence.
I'm finally home after keeping the party rolling all day yesterday. Decided to call an audible and went to one of my good buddy's house in The Woodlands I went to flight school with. He had a hall pass from the wife and was also keeping the party going.
I'm tired, got a little cold/sinus infection, I'm in need of some 'drying up' as it were, but I'm still beaming with joy and elation.
Getting to hang out with you all and commiserate about our beloved Houston Astros, to see the good guys win the whole fucking enchilada in person, to stick it to all the haters, the doubters, the moronic/petulant no-talent ass-clowns out there, well, that's just fanfreakingtastic.
I will cherish this weekend as long as I live.
Let's hope we can do this again next year…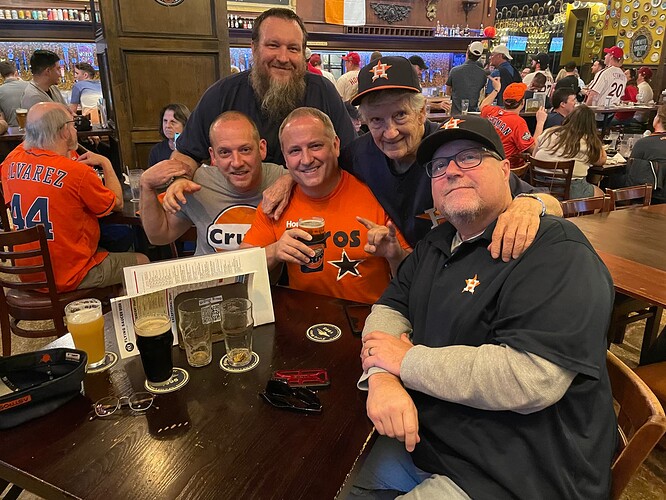 Hey nice, I have that "Crush" Gulf Oil shirt too.