Game is being streamed today (Mets feed). Starting time 5:10.
Lineup versus DeGrom: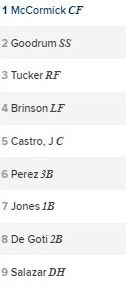 Odorizzi starts on the hill.
DeGrom K's McCormick, Goodrum and Tucker in T1.
Odorizzi also 1-2-3 inning but none of his were Ks: Nimmo and Lindo on pop/fly outs and McNeil retired on a groundout.
Lewis Brinson leads off the 2nd with a double off DeGrom.
Castro whiffs, Joe Perez fouls out and Taylor Jones whiffs to end the inning.
DeGrom with 5 Ks.
Odorizzi allows a leadoff double in B2 to Pete Alonso.
Cano flies out, Alonso gets thrown out on a ball that briefly got away from Castro, Eduardo Escobar walks and Mark Canha obligingly swings at a ball to strike out and end the inning.
Adam Ottavino on for the Mets in T3.
Alex De Goti fouls out (thanks to Ronel Blanco who didn't get out of the way of Pete Alonso chasing a ball along the RF line), Cesar Salazar flies out and McCormick Ks to end the frame.
0-0 heading to B3.
Peter Solomon on to pitch in B3.
Dom Smith flies out to CF.
A GB by Tomas Nido that gets under the glove of De Goti is somehow scored a single instead of an error.
Nimmo walks.
Lindor singles. Bases loaded, 1 out.
McNeil grounds in to DP to end inning.
Trevor Williams takes the mound in T4.
Goodrum lines out, Tucker grounds out, Brinson grounds out.
Still scoreless heading to B4.
Solomon out for his second frame.
Alonso Ks, Cano flies out, Escobar flares a base hit to CF, Canha grounds out to end frame.
On to T5 with both sides still looking for runs.
Williams pitching to Castro as the 5th inning kicks off.
Castro grounds out. Joe Perez walks, Jones grounds out, De Goti whiffs.
Astros hitters with just 1 base hit thru 5.
0-0 heading to B5.
Journeyman southpaw Zac Rosscup in the game for the Astros.
Fixing dinner but apparently his Astros debut was not impressive.
Houston now down 2-0 heading to T6.
Alex Claudio pitching for Mets.
Cesar Salazar whiffs, McCormick grounds out, Goodrum lines out.
Astros down by 2 runs going to B6.
Seth Martinez takes the ball for Houston.
Many defensive changes for the Astros including Korey Lee behind the plate.
Cano grounds out as does Escobar. Canha Ks.
Second clean inning this spring for Martinez.
Down 2-0 going to T7.
Jose Rodriguez on da bump for Mets in T7.
Ex-Coog Corey Julks whiffs. Michael Sandle (10th rounder last year) grounds out. Korey Lee flares a hit to RF for the Astros 2nd hit of the game. David Hensley (26th rounder in '18) singles. JJ Matijevic (2nd rounder in '17) flies out to center to end the inning.
2-0 Astros losing heading to B7.
Ronel Blanco pitching in B7 for Astros.
Blanco will again be bullpen depth at AAA for the 3rd straight season.
A bit of traffic for him in the inning but escapes any damage.
2-0 Mets on top going to T8.
T8 with Stephen Nogosek pitching for the Mets.
Don Kessinger's grandson Grae leads off for the Astros with a K.
C/1B Freddy Guilamo, who played in the FCL last season, flies out to CF.
Alex McKenna (4th rounder in '18) Ks.
Houston down by 2 going to B8.
Jon Olczak takes over for the Astros in B8.
Clean inning with a pair of flyouts and a K.
Last chance for Astros down 2-0.
Rob Zastryzny takes the ball for the Mets in T9.
Leosdany Molina (Cuban player who was in the DSL last year) whiffs.
Corey Julks also whiffs.
Michael Sandle also Ks
The Astros struck out 14 times in getting shut out 2-0 tonight.
The offense, consisting mostly of overmatched youngsters, has scored just 6 runs in the first 4 games of the spring.