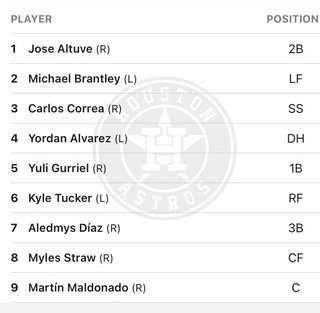 Montas and Urquidy on the hill.
T1:
Laureano flies out F8
T1:
Lowrie flies out F9
Nothin
Lowrie goes from two years of never playing with the Mets to batting third for the Defending Champion Athletics.
The Mets did not get their money out of that deal
No kidding. I heard TK discussing it, and I think it was 9 games in two years or maybe 9 ABs.
I like Lowrie and always will think of him as an Astro.
B1:
Brantley strikes out swinging
Nice play by Canha off the wall, Correa drilled that one.
He had 8 plate appearances in 9 games for them. And made $20MM
B1:
Correa hits a screaming line drive that hits the top of the LCF 370 feet away…held to a single. That was was blistered.
B1:
Alvarez…3-2…strikes out swinging.
No score
So thinking about Lowrie and the Mets more…he did not have a hit, and reached base only once for them on a walk. He struck out four times. So you could say the Mets paid him $20MM/walk or paid him $5MM for each time he struck out for them.
T2:
Chapman nubs one up the 1B line…Urquidy there and tags him out. Score it 1U
T2
Murphy strikes out swinging.
There must have been an out in there somewhere I missed
Olson grounded out to Altuve to lead off
B2:
Gurriel lines one off of Montas, who can't recover and pick it up…infield single. Montas looks to be fine.
Nailed him right in the asscheek