Arte busts a u-ey…
What does it mean? Well let the fans in Orange County tell you…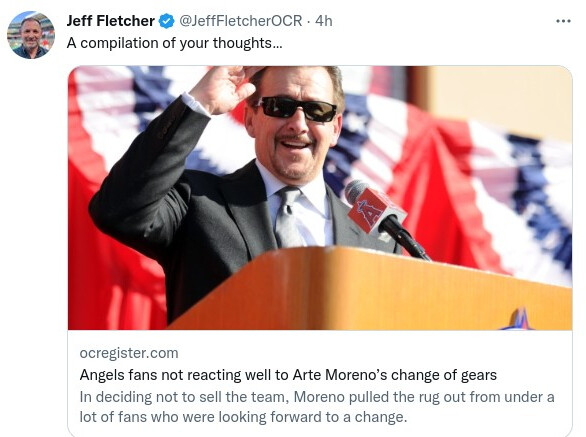 I mean, actually not showing up hasn't done anything to this point. Gotta try something
I don't think the Rangers are going to fade this year. They look legit, they have a good manager and a vastly improved line-up. God, I hate them.
I think you are correct about all of that.
They have a solid lineup of guys who can hit and not just swing for the fences.
Their starters have been lights out.
Their pen is shaky. No doubt they'll look to bolster it at the deadline.
They're a formidable foe.
The Astros lead the league in Runs Allowed at 209, the Rangers are third at 224. The Rangers lead the league in Runs Scored at 376, the Astros are tied for eighth at 267.
It's a remarkable performance for a pitching staff that has never been at full strength and is now missing three starters. It's also clear that the Astros need much better performance from their offense.
The Rangers also have played the weakest strength of schedule in the entire MLB so far this season.
They also have a great manager.
The Rangers are clearly one of the top 5 teams in the AL and I do not expect them to go away.
That said, they have several young semi-proven players performing well above anything they have ever done before. I expect some at least to regress over the next 100+ games.
The Astros will have the opportunity to catch them. I just hope they take advantage of it.
Stros are 3.5 games back at the beginning of June. I agree that there's an opportunity to catch them.
I do believe the Rangers are for real(if they stay healthy, alot of their guys have real injury histories), but they are playing at a 106 win pace. I do not believe they are a 106 win team.
Rangers just walked it off against the Cardinals.
Turdinals stomped their weiners in Arlington.
Rallied to tie but ended up with 2 runners on 3rd.
Then in the 9th walk and a dropped popup (on the run) followed by a single to lose it.
Arrenado was the extra runner and the fielder on the drop.
DeGrom to the 60-day today.
According to Yahoo Sports: "The 34-year-old right-hander has been shelved since late April due to inflammation in his right elbow, and has currently paused his throwing program while away on paternity leave. This means the soonest he'll be able to rejoin the Rangers' rotation will be June 28. Nothing really changed in his prognosis to prompt this move though, it was done simply to free up a spot on the club's 40-man roster for the return of Spencer Howard from the 60-day IL on Monday."
A's couldn't even get the stadium proposal voted on before the Nevada session ended. It's unclear if or when a special session would be called or if the A's proposal would even be on the agenda in that possible special session. The A's seem to continue to fuck up in all things.
Good on them. If A's ownership won't invest in their own team, why should the people of Nevada?