I have visions Loperfido being the next Billy Spiers/Marvin Gonzalez.
Per Chandler Rome, Drew Gilbert has been promoted to Corpus
He and Clifford have been tearing shit up so far
I hope we get some first hand accounts of him. In the SEC, he had a bit of a reputation as a drama king. Every call against him was a bad call.
He was also someone you loved having on your team and hated if you didn't. So I might be projecting some of that based on the fact he wasn't on my team.
I believe "Hot Dog" was what the SEC announcers glossed him with. Reminded me a bit of young Biggio, but more demonstrative.
Fans don't mind a hot dog but a whiner is a different story. Hope he left that behind in TN.
Certainly deserves the promotion based on the season he's having so far.
Wonder how much more Clifford has to prove at Fayetteville.
I'll be interested to monitor Clifford. Guy's got some dog in him.
I remember TEN HC saying after Stros drafted him that he transformed the entire program as a freshman…don't quote me but it was something like that. A bold statement for sure. As soon as I heard that I quickly dismissed the hotdog talk.
I planning on going to the Hooks game in San Antonio tomorrow and/or Wednesday (double header). Looking forward to seeing Loperfido, Wagner, and Clifford.
I think Clifford was only promoted to HiA.
Believe he's still in Fayetteville, or did I miss something?
I meant Gilbert not Clifford.
Clifford did move from Fayetteville to Asheville though.
Hooks' game in SA has been rained out.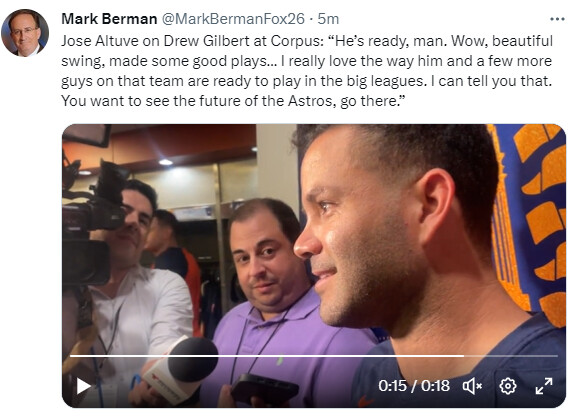 @thevandalorian The Astros promoted Zach Dezenzo to Double-A Corpus Christi. He's starting at first base tonight for the Hooks.
Well deserved promotion for Dezenzo. He's racked up some time at 1B over the past year, I assume he'll still get time around the infield in Corpus.