Any random thoughts on our players?
I'm assuming this guy will be one of them at some point…
Retweeted by Colton Gordon himself.
FCL Blue rallied for 3 runs in B8 to take a 4-3 win over the Cardinals in WPB.
After posting a .628 OPS in '21 earned him a return ticket to the FCL, SS Dauri Lorenzo went 3-4 today as the leadoff hitter. The 19 y/o Dominican signed for $1.8MM back in '19.
Another FCL returnee is 19 y/o Venezuelan catcher Juan Santander. Posted a .480 OPS in '21 after signing a $700K bonus in '19. Hitting second in the lineup and went 1-3.
Dexter Jordan started in LF. A 16th round pick back in '19 out of Pearl River CC, he retired last year. So his unretiring means he hasn't played competitive baseball since his draft year. He's also now playing a new position after playing 2B at Pearl River and as a pro back in '19.
Yefri Carrillo was originally signed for $300K out of Venezuela in '17 as an outfielder. Although still listed as an outfielder on the roster below, he converted to pitching last year and walked 38 in 46 innings in the FCL. He was today's opening day pitcher and went 5 2/3 and walked just 1 while whiffing 6.
A rehabbing Walker Brockhouse (NDFA '21) was the 3rd pitcher in the game for the Blue. Pitched 1 2/3 innings before being removed due to pitch count.
The Astros Orange played in Port St. Lucie and lost a 2-1 game to the Mets.
Full rosters in case you're interested…
The Orange squad defeated the Mets 4-2 today while the Blue lost 2-1 to the Cardinals.
So a pair of rehabbing pitchers opened the game for the Orange. Valente Bellozo tossed a scoreless/hitless inning while whiffing 2. Bellozo last pitched in 2019 where he had a really good season in time split between Tri-City and Quad Cities (69 Ks vs just 12 BBs in 58 IP). I don't recall a specific report on the 22 year old out of Mexico but i assume '21 was wiped out due to TJS. Bellozo was followed to the mound by Yeremi Ceballos who also threw a scoreless frame. The 23 year old lefty was at Asheville last season before being shut down on July 21. Struck out 3 today but also walked 2 which in a nutshell is his career (lots of Ks, lots of walks).
Once the rehabbers were done 19 y/o lefty Cuban pitcher Jose Nodal came on. Nodal is repeating the league after walking 20 in 26 IP last year. But he only walked 2 today in 7 innings which was the longest stint of his career. He K'd 10 (another career high).
All but two of the position players in the lineup for the Orange today are guys repeating the league.
Leadoff man Rolando Espinosa was the hitting hero today going 2-4 with a homer and 3 RBIs. The 21 y/o Cuban player was signed for $175K all the way back in 2017. He's been used as a utility guy since his signing, playing 5 different spots (3 infield plus LF and CF) and was at 2B today. Missed all of '21 with injury so this is his first game action since '19 when he posted a .628 OPS in his first go around in the FCL.
The Cuban contingent in the lineup today also included a pair of outfielders in Frank Perez ($275K) and Roilan Machandy ($250K). 20 y/o Perez was DHing today after playing RF yesterday. He has been particularly inept at the plate his first two years as a professional with a .136 BA and 36% K rate in 60 games. He's started out this year 3-7 with a double but has also whiffed 3 times. The 21 y/o Machandy has played CF the first 2 games. He posted a respectable .770 OPS last year but is 1-7 with 3 Ks to start this year. Machandy stole 30 bases in 46 games last season (caught just 7 times) and has 2 swipes in 2 attempts this year.
Batting second today was SS Hector Nieves. Nieves was a 19th round pick last year out of Puerto Rico but in terms of bonus the $180K he received was 3rd highest after Tyler Whitaker and Chayce McDermott. Also the only HSer the Astros signed last year other than Whitaker. Put up a .681 OPS last year after being drafted. He's 0-6 to start this season.
19 y/o cleanup hitter Richi Gonzalez ($310K) was held in high enough regard by the Astros that he skipped the DSL and get his first exposure to pro ball stateside. He responded with a .527 OPS and a horrific 45% K rate. He's played corner outfield exclusively.
19 y/o infielder Ricardo Balogh ($300K) was at 3B and hitting 9th today. The Dominican player posted a .508 OPS last year which followed a .503 OPS back in '19 in the DSL. He's 2-5 over his first two games but with 3 whiffs. Did I mention his 32% K rate entering this season?
The two players in the lineup that are making their debuts stateside are C/1B Luis Encarnacion ($210K) and OF Christopher Morales ($275K). Both 19 and both from the DR. Morales had an .853 OPS in the DSL in '21 that was accompanied by an ugly 40% K rate. He's played the corners exclusively so far. Encarnacion in the DSL posted an .827 OPS but a K rate of just 11%. He was 15-3 in SBs. He's also listed at just 5'8". Collectively they are 2-15 over the first two games.
Orange lost to the Cardinals today in WPB in a game characterized by sloppy play and quiet bats (a descriptor that probably will be used many times this summer). Final score in the rain-shortened contest was 6-0.
Elvis Garcia started on the bump. He showed up at #28 on last year's BA's top 30 list but subsequently dropped off. The 19 y/o Venezuelan spent the back half of last year at Fayetteville (23 IP, 1.04 WHIP) so I'm assuming his return to WPB is due to working his way back from some type of injury. His command today of the breaking ball was shaky early but he settled down some as his appearance wore on. Walks aside it wasn't a bad outing as he ended up throwing 33 pitches.
OF Everette Cooper was in the lineup for the first time. Went 0-2 with a whiff and dropped a routine FB in left field (didn't appear sun was a factor either). He's the only player in the system out of the Bahamas and was signed for $325K back in '19. Batted just .163 in the DSL last year while whiffing at a 31% clip and showing virtually no pop.
Blue squad lost 6-2 to the Marlins up in Jupiter.
Orange and Blue are a combined 2-4 to start the season.
Blue game today in WPB started early due to the threat of rain.
The bats were still in bed asleep (although early results suggest a permanent somnolent state). A gaggle (pod? school?) of Marlins pitchers tossed a 1-hitter for the 4-0 win.
Per usual rehabbing pitchers led off the game with Jacob DeLabio (2 games in April for the Peckers before being shelved) and Yeremi Ceballos (Asheville in '21) each tossing an inning.
19 y/o Dominican Eurys Martich then made his stateside debut. Martich is living proof you CAN walk your way off the island. He walked 2 batters per inning in his pro debut last year in the DSL. That would be 50fucking2 in 26 IP although he did also whiff 43. Today's game saw him post 3 walks before getting pulled after just 2 outs.
On came 21 y/o Cuban pitcher Roger Benavides. Signed for $10K last November. Milb.com has him listed as Roger Jorge. Martich passed the walk baton to Benavides/Jorge who handed out 5 free passes over the next 2.1 frames.
Danny Subero was the sole remaining pitcher for the Blue. Signed for $200K back in '18, the 20 y/o Venezuelan came on in the 6th to shut out the Marlins over the remaining 4 innings. Subero had his own walk problems in the DSL with 48 over 59 IP over the past 2 years. He walked just one today.
Offensively, Richel Del Rosario was in the lineup today. 18 y/o Dominican outfielder signed for $300K several years ago. Hit just .196 in the DSL last year with zero power and is 0 for 8 now in this his stateside debut season.
Orange defeated the Cardinals 5-2 today in Jupiter.
Besides the 3 hits (2 singles and a double), he also walked 2. The Nats also stole 3 bases off him in that first inning in which he gave up all 3 runs.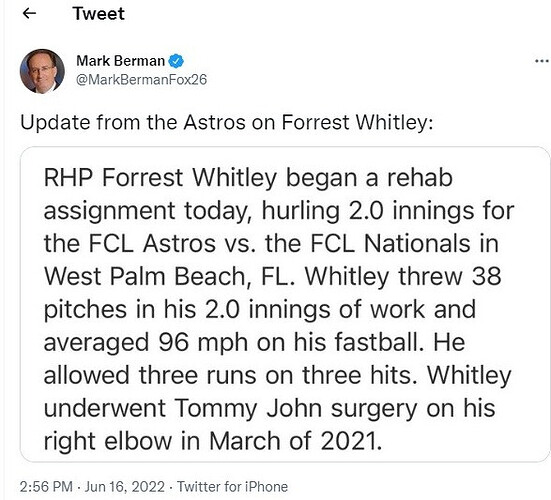 Marty Costes was in the lineup today for the Blue today as well. First rehab game since getting put on the IL at Sugar Land over a month ago. Got plunked today in first AB and was removed from the game.
I am probably stating the obvious, but results do not matter much at this stage of the game. They are looking for how he looks throwing, velocity, the dreaded "discomfort," and how he bounces back tomorrow and the next few days.
ETA: "how he looks throwing" means is he throwing free and easy or is he laboring?
Travel costs in the FCL are already minimized with the Astros teams only playing games against the Mets (50 miles away in Port St. Lucie), Cardinals and Marlins (both 20 miles away in Jupiter) and Nationals (who of course share the complex in WPB). And then you can do this as well…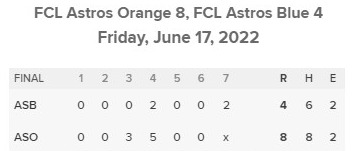 Well at least you can pick up a win.
1st and 2nd round picks Drew Gilbert and Jacob Melton made their pro debuts in the FCL today.
Melton with the Blue squad went 0-5 with 3 whiffs.
Gilbert played in a DH in Port St Lucie with the Orange team. Actually game #1 was the continuation of a game that had been suspended back on July 22. Anyway Gilbert homered in his first AB. Combined in the two games he went 3-6 with a walk and that homer.
10th rounder OF Zach Cole has now played in 3 games for the Orange and is 2-11 with a double.
13th rounder SS Jackson Loftin has played in 2 games for the Blue and is 2-8.
BTW, besides Melton and Loftin the Blue squad in their lineup also had rehabbers Niko Goodrum (he put up a golden sombrero), Scott Schreiber and Ross Adolph (who whiffed 3 times). And still lost the game. That club is now 11-28 this season.
Pitched a scoreless frame today with one hit allowed and one punchout.
FCL Blue squad notes from the game today…
Alex Palmer made his 2022 debut today with a scoreless frame in which he walked one and whiffed two. The 20th round pick back in '19 out of SFA has made just 19 appearances in the 4 years since he's been drafted
2nd rounder Jacob Melton played his second game today and is now 0-9 with 4 K's since being drafted
16th rounder Tim Borden made his pro debut with a 2-4 game
19 year old shortstop Dauri Lorenzo ($1.8MM bonus three years ago) has made 12 errors in 29 games this season
19 year old catcher Juan Santander ($700K bonus also three years ago) has 9 PBs in 24 games this year and is hitting just .168
20 year old Cuban righty Carlos Espinosa ($480K bonus this past January) off to a nice start to his professional career: 20.2 IP, 16 H, 6 BB, 22 K.
Retired all 6 batters he faced today including 5 by whiffs and the other via a soft contact groundout.
Also picked off a runner (who had reached on a PB on one of the Ks).
Just turned 20 year old Cuban pitcher Jose Nodal over his last 6 outings: 16.1 IP, 12 H, 6 BB, 21 K, 1.65 ERA, 1.10 WHIP.
On the flip side he is coming on strong at the plate: .356/.487/.492 over his last 21 games with a very cool 17 BBs versus just 7 Ks.
FCL play wrapped up today with an intersquad game. FCL Orange (23-25) defeated FCL Blue (15-38) by a 5-4 score. The Orange finished 4th in the 6-team pod East division while the Blue finished last.
Both squads had some problems on the pitching side in particular with the Blue dead last in the East with walks at 6.0 per nine while the Orange wasn't much better at 5.0 per nine.
Interesting inning in today's game. In B6, Orange infielder Rolando Espinosa led off with a walk and then proceeded to steal 2nd and 3rd. After catcher Fernando Caldera got plunked, Espinosa stole home on the back end of a double steal with Caldera. Caldera swiped 3rd for the SB #5 in the inning. The next hitter whiffed but the ball got away from Blue catcher Ricardo Toro who had to throw to 1B to complete the out with Caldera scoring on the play. On the day the Orange successfully swiped 8 of 9 bases.
Toro finished the season having thrown out just 19% of baserunners.
Cuban infielder Espinosa was a very slick 32-5 in steals in 49 games. A K rate of nearly 30% this season however doesn't portend well for his future.