Just saw the news on Pena: out for at least a couple of months due to left wrist surgery.
Please remind us when it gets closer to the game.
This was already known but became official today. Only the Asheville club is not owned by the Astros.
Astros ATS squad falls to 2-4-1 against the Rangers after yesterday's exhibition contest. Andre Scrubb gets in an inning of work. Lorenzo Quintana (not know for his defensive work behind the plate) remains the best hitter for the Astros in these exhibition contests. Jose Siri homered for the 2nd time in 7 games but also remains a whiff machine. World's largest 2B (not the first time he's played there–he started 3 games at the position for QC in '18) Colton Shaver went deep as well.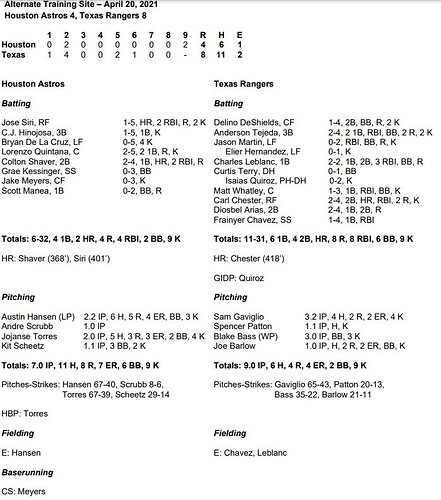 Kaplan says he's out 5 months which of course completely wipes out his 2021 season. Here's hoping he comes back strongly in the Arizona Fall League and again has a good winter ball season.




























Siri had 7 RBI last night: three-run double and grand slam. Conine is pitching tonight. Looking forward to seeing the Skeeters.
I was at the game, the Skeeters were smashing the ball and Siri was locked in against the Express starter Bahr. There was a guy doing an annoying "Hey Siri!" schtick during his at bats that he could certainly hear, and the timing of his grand slam was some funny shit. Guy makes a dumb joke, people laugh, and a split second later Siri blasted the pitch onto the berm in left. Fun game for the Skeeters.
Looking forward to seeing Siri and Conine tonight.
With Framber Valdez throwing a bullpen session today in Houston, what are the chances of him pitching this series in RR since the Skeeters will be there through Tuesday?
I would not know. I am an Astros fan with no inside info except maybe a little with the Express org. I wail and lament RR's loss of the affiliation with the Astros.
Same. I live very close to Dell Diamond and was looking forward to seeing Astros prospects with my mini season ticket package and then Covid hit and MLB voided all those affiliate contracts. It sucks and broke my heart but at least Sugarland will play in RR more often than when OKC was the AAA club.
"Well, that's a grand slam."
Made me laugh out loud.
I liked "Merciless heavens" as Siri rounded the bases,
I initially forgot that Mike is calling for the Rangers team, so it was a bad occurrence to him/his listeners.
However, the deadpan still cracks me up.
I am afraid of forgetting tonight and sounding excited when I should be morose.
Express DH Elier Hernandez launched a scud off of Tyler Ivey that nearly went out of the stadium. I'd like to hear Capps' call of that one.